Galacticon 3
In 1993 the first "Battlestar Galactica 15 yahren Reunion" was held in the Universal City Hilton to celebrate the 15th anniversary of the original Battlestar Galactica series from 1978. This fan run convention had several cast and crew guests, an art/charity show, an auction, a costume contest, gaming, a dealing room and a memorabilia display area. Since then the convention has been held every 5 years. 2003 marked the year of the 25th anniversary of the original Battlestar Galactica series. A lot had happened since the previous convention, held in 1998. Richard Hatch and Michael Wehrhahn had tried to revive the series by bringing out the "Battlestar Galactica: The Second Coming" trailer. Tom DeSanto and Bryan Singer were even making sets for their Battlestar Galactica revival version when 9/11 postponed the project enough to miss the window.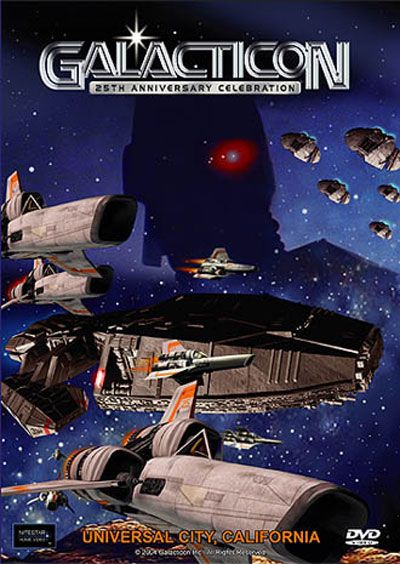 Ron Moore and David Eick were more succesful and the year 2003 not only marked the 25th anniversary of the original series (and Universal finally bringing it out to DVD), but also the birth of an all new Battlestar Galactica series. The 25th Celebration, from that moment on known as Galacticon, was held on the eve of all that, just before the Miniseries aired. Ron Moore dared himself into the lion's cave the answer questions from the orignal Battlestar Galactica series fans attending. In 2008, Galacticon took a different turn. Rather than to celebrate in a hotel they cruised off to Mexico and back on a floating battlestar named Paradise. Among the guests were Richard Hatch and Terry Carter. Tom DeSanto attended the pre-cruise dinner and brought original material from his 2001 Battlestar Galactica revival attempt. Stu Phillips gave a private concert and did a Battlestar music game in the piano bar. Sarah Rush went shopping with the fans on one of the stops. Even the original Battlestar Galactica series pilot ("Saga of a Star World") was aired with several cast and crew members attending. Galacticruise was also attended by the now late Robert Feero, best know to Battlestar Galactica fans for his role of Bora, the Borellian Nomen in the episodes "The Man with Nine Lives" and "Baltar's Escape".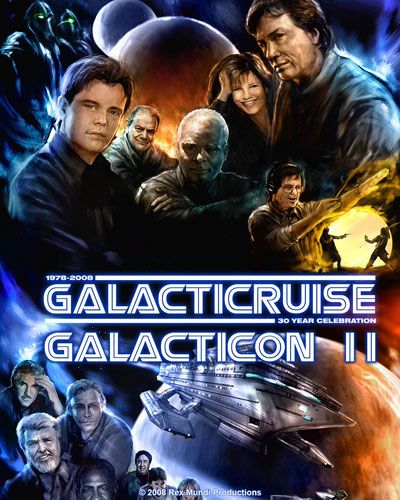 Next year will mark a new era. In 2013 not only will we be celebrating the official 35th anniversary of the original Battlestar Galactica series, but also the 10th anniversary of the new Battlestar Galactica series. And we're again moving on in space as well. The Galacticon 3 convention will be held in close collaboration with the ever more popular Comicpalooza Convention at the George R. Brown Convention Center in Houston. We're working on making this one the biggest reunion celebration ever, so come and join us on this great anniversary celebration...